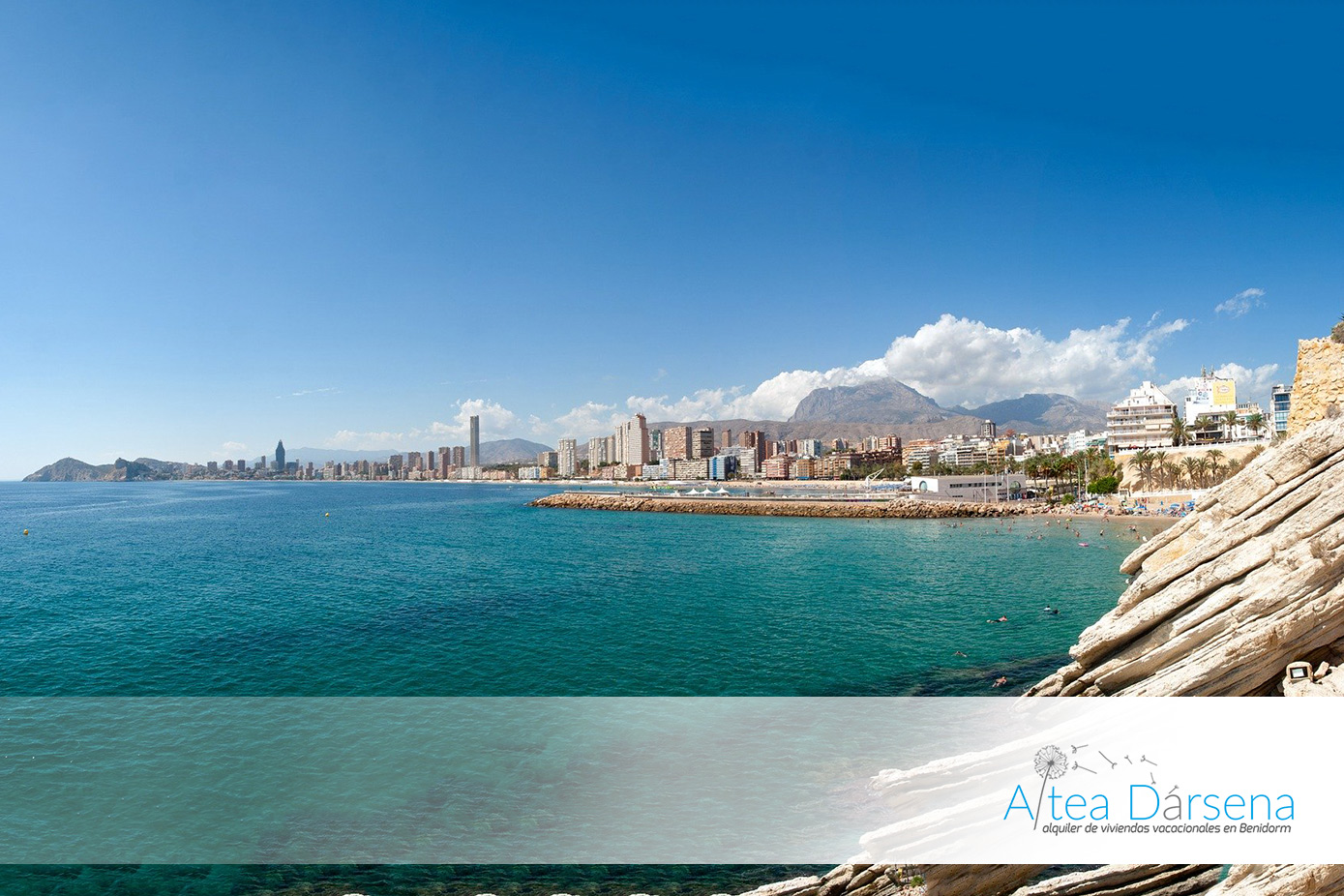 Holidays Benidorm
Holidays Benidorm is, without a doubt, two words that go together. Benidorm is one of the main tourist destinations in Spain and Europe.
We could say that Benidorm is a holiday city.
The best holidays are in Benidorm, why? You have everything you need to enjoy a really impressive holiday.
Benidorm has the best conditions that travelers look for in our holidays. The requirements that the travellers look for to enjoy their days of vacations.
Holidays in Benidorm, is synonymous with sun, beach, good weather, unique atmosphere, enjoyment and entertainment, in short, Benidorm brings together everything to make your holidays in Benidorm are perfect. If you are looking to travel in Spain, let Benidorm color you.
Look after yourself with a rich Cultural and Natural Heritage that will give you an impressive holiday.
What to see in Benidorm
If you want to enjoy a holiday in Benidorm in style and not miss anything this is your post.
Holidays in Benidorm is much more than sun and beach.
Located in the province of Alicante, in the Valencian Community. It is a city famous for its beaches and lively nightlife, which has made it one of the most popular destinations in Spain.
This urban nucleus will welcome you in a true dream complex.
You will be surprised by its many and varied landscapes, but also by its crazy life.
Its buildings, avenues, streets, beaches and views are elements that make it the modern city of holidays and leisure.
What to do in Benidorm?
Benidorm is a destination recognized by many and varied activities. You can find several places of attractions, water, roller coasters, as well as zoos with amusement parks, or on the other hand, services that offer the practice of sports of all kinds.
All these facilities are designed, above all, to make your visitors happy.
Summer paragliding
Live a unique and unforgettable experience practicing paragliding. You can share it as a couple or with friends. Fly over Benidorm by parachute. Apart from facing a dream landscape, it is an activity that will give you magical and unique sensations that will make you remember that moment and that experience throughout your life.
Visits to the island
Boat trips to the island are organized. A boat trip, very relaxing in which you can enjoy the sun and the beautiful views that only provides the island-benidorm sea.
Visits by boat to the island of Benidorm, undoubtedly, icon and emblem par excellence of the city.
Undoubtedly, the island of Benidorm is the emblem of the city, easily recognizable.
Enjoy Benidorm is a flatness and visit your island.
What to visit in Benidorm?
You can discover the local culture of Benidorm, for this you can make tours around the city and find places of complete beauty by walking through the lively streets of the city and visiting historical places known around the world.
Old Town of Benidorm
Immerse yourself in the heart of Spanish culture by visiting the Old Town of Benidorm.
Walk through the labyrinth of its cobbled streets and you will be able to rest in one of its establishments or go shopping.
Benidorm Castle Square
The Plaza del Castillo was built over Benidorm and its beaches, offering panoramic views over the buildings and the bays in height.
This square dressed in blue and white is a place of all beauty. It is the famous viewpoint of Benidorm. A place with a special charm, which reminds us of the origin of the city and from where the views are really spectacular and worth admiring.
Benidorm Viewpoint
The Benidorm viewpoint is located in the old town area, right in its highest point. Without a doubt, it is the most beautiful and romantic part of Benidorm.
The landscape from Benidorm's viewpoint is truly spectacular, surrounded by water and decorated with mountains and the spectacular Benidorm skyline.
The Benidorm viewpoint is one of the most charming areas of Benidorm, the holidays in Benidorm can not pass without visiting the Benidorm viewpoint.
From the Benidorm viewpoint enjoying a book or the sound of the waves is a real pleasure, or simply enjoy the scenery.
The viewpoint of Benidorm is, of the zones where the visitors take more photos, the landscapes are worthy of postcard.
Cross of Benidorm
Placed on top of the summit by the friars, it symbolizes the liberation of the city.
What was once an icon of Puritanism is now a true "tourist attraction".
Mediterranean Balcony
The Mediterranean balcony offers you a magnificent view over the bay of Benidorm.
This square is surrounded by shops and consists of a magnificent mosaic overlooking the entire sea that surrounds the city, both the Levante beach and the Poniente beach.
Where to go out in Benidorm?
Night plans in Benidorm
The best night, it's in Benidorm.
Varied night plans and for all tastes and ages in Benidorm.
You can enjoy the spectacular nightlife in the discotheques on the promenade of Levante, where you will live the liveliest nights you have always wanted.
One of the best areas, without a doubt, is the Levante Beach area.
It also has a truly unique atmosphere at night. Number of restaurants, bars, pubs with live music…
A number of options, always with the best environment. Also, for all ages.
Your nights are undoubtedly on Levante Beach in Benidorm.
Day plans in Benidorm
You will also be able to take advantage of the quieter atmosphere provided by the old town's drinking area, or if you wish, you can enjoy the shows offered by the Benidorm Palace.
What is certain is that in the city of Benidorm, you will never get bored.
During the day, Benidorm has all the options so that you don't want to go back to your apartment.
Spectacular beaches to enjoy the sun and the sea, plenty of water sports. Maritime walks ideal to enjoy beautiful walks …
Benidorm has many spaces with unique views.
In the photo on the right, we see the viewpoint of Benidorm, located in the old town, a place with a lot of charm and really spectacular views.
Amusement parks in Benidorm
Amusement Parks in Benidorm is undoubtedly one of the best plans to enjoy a different day and really fun.
Visiting an amusement park in Benidorm is a perfect plan, especially when we go with a family or a group. A day at the amusement park may be the best option to do something different and have a good day.
In addition, Benidorm has a wide variety of amusement parks, water parks in Benidorm, the traditional Terra Mítica or with animals.
Amusement parks for all audiences and all tastes.
Where to sleep?
The ideal place to spend your holidays is in Altea Dársena Apartments, where they provide you with everything you need to make your holiday nights unforgettable.
You will have wiffi and free parking throughout your stay, so you only have to worry about enjoying and making the most of your holidays without giving importance to anything else.
Don't think twice, Benidorm is waiting for you!
Accommodation in Benidorm
Holidays in Benidorm is a guarantee of fun, tranquillity, good weather, sun and beach. Therefore, for our holidays in Benidorm to be perfect, we have to enjoy the best accommodation in Benidorm.
When looking for accommodation in Benidorm, as in any other tourist destination, we have to take into account several factors when choosing our holiday accommodation.
As we say, in the specific case of looking for accommodation in Benidorm, the offer is really extensive. Therefore, choosing the best holiday accommodation in Benidorm can sometimes be complicated, as we always want to find the perfect Benidorm accommodation.
Taking into account the location, type of holiday accommodation, type of clientele, services, prices, state of holiday accommodation… are just some of the factors to take into account.
For this reason, you should look for a holiday accommodation in Benidorm that meets the best conditions to enjoy a perfect holiday in Benidorm.
Apartments in Benidorm
Apartments in Benidorm are, without a doubt, the most sought after type of accommodation in Benidorm.
Holiday apartments have an increasingly prominent position among other holiday accommodation. As we have said in other posts, there are many advantages of renting apartments in Benidorm to enjoy a perfect holiday.
Apartments in Benidorm is a type of holiday accommodation in Benidorm that meets the necessary conditions to ensure an ideal holiday in Benidorm.
There are many apartments in Benidorm, and once we have chosen to rent holiday apartments, we need to take into account the condition of the apartment, which is well equipped and equipped for our needs. As we already know, it is not the same to rent a holiday apartment for two people as it is for a whole family, the better equipped it is, the more guarantees of comfort and good service.
And, of course, one of the most worrying factors, the location of holiday apartments in Benidorm.
Holiday Apartments Benidorm
Benidorm Holiday Apartments is the best option for your holidays in Benidorm.
Holiday apartments there are many but the location, the views … are some of the facts to take into account when selecting our apartments in Benidorm.
Holiday apartment rentals Benidorm is the most sought after type of accommodation in Benidorm in recent years.oferts semana santa benidorm
If you are looking to rent holiday apartments for your holidays in Benidorm, rent the best.