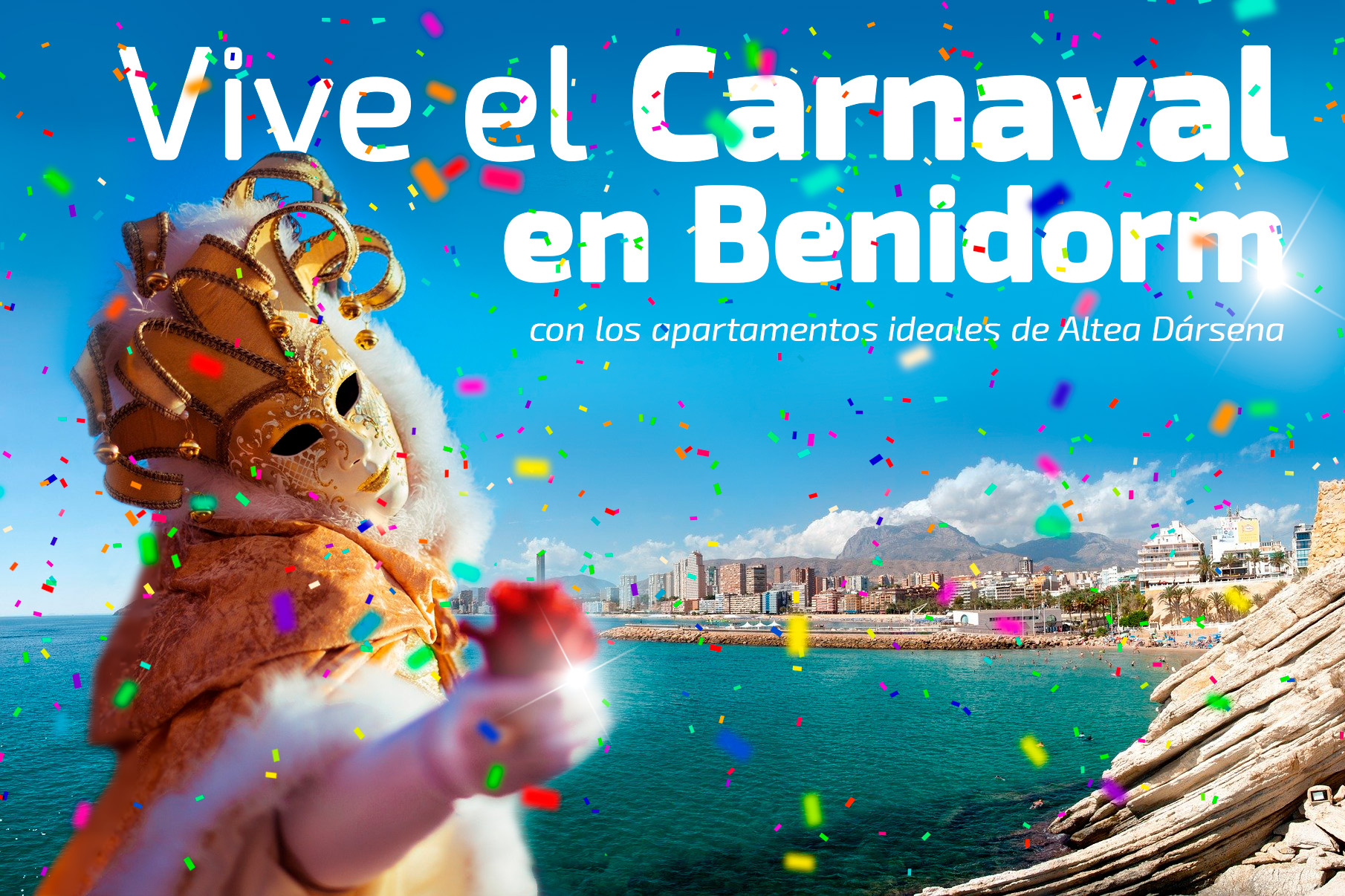 The Carnival or Carnivals are really significant dates of the year. A date where costumes, make-up and music are the indisputable protagonists.
Origin of Carnival
Today, however, the festivity has changed a lot and it is no longer a religious festivity. Originally, Carnival was something totally different.
During the Middle Ages, the famous carnival had a strictly religious foundation, so much so that the word carnival comes from "carnem levare" which means "to remove the flesh". This festivity took place days before the "Lent" time in which the consumption of meat was not allowed, but on the contrary it was time of abstinence and fasting.
Thus the carnival arose, that time before Lent where everything was allowed. So much so that, at that time, people disguised themselves to mask their identity and thus safeguard anonymity in that period of debauchery.
Carnival 2019 in Benidorm
One of the first major events of the year is the Benidorm Carnival. A very popular event that attracts people to see and enjoy the carnival that is celebrated.carvaaal
With a mix of parades for children and adults is a great event to visit in Benidorm.
Colour, costumes and music give meaning to the carnivals of the city of skyscrapers.
It is a vibrant, fun and free atmosphere that is worth attending.
This year 2019 the carnival falls on Saturday March 2nd and will last all day.
First of all, on Saturday morning from 11.00 the carnival of the youngest of the house will take place.
Secondly, on Saturday night, from 21.30 will be held the adult carnival.
Numerous parades will be held in the Old Town, ending in the Town Hall of Benidorm, next to the Park of Aigüera. The carnival will last until Sunday 5th with the traditional Burial of the Sardine.
Carnival floats
The floats are the protagonists of the annual carnival which is celebrated before the beginning of Lent as it is the last activity to celebrate before Easter.
It is a fabulous spectacle with two types of carnivals.
In addition to the beautiful floats, many people walk the parade route in costumes, so it's an excuse to disguise yourself as your favorite movie star or favorite hero and dance through the streets of Benidorm.
Carnival race in Benidorm
If you are a sportsman and you like to participate in races, Benidorm is your place. If, in addition, also, you enjoy with the carnivals, the 2 of March of 2019 you have an appointment in Benidorm.
Benidorm is an ideal destination for athletes. It is perfect for lovers of water sports but, however the runners or "runners" find in Benidorm an oasis to enjoy at any time of this sport.
Benidorm has an unbeatable climate to enjoy outdoor sports any month of the year. Therefore, if during your holidays, you are one of those who like to practice sport, Benidorm is your holiday destination.
Where to find the best costumes?
In Benidorm there are several options. Whether you want to buy them or even rent them.
You can find lots of costumes in toy shops or big supermarkets.
Also, in Benidorm, there is a shop for rent in the area of Rincón de Loix that has a great variety of suits for adults, really nice and different.
Costume competition in Benidorm
Enjoy the best carnival costume competition in Benidorm. When? Saturday 2 March in Benidorm.
And then, a big Carnival 2019 party at the Town Hall. A marquee with music and a bar to enjoy a few drinks with the best music to dance and celebrate the carnival.
Half marathon night & 10km Benidorm International
Midnight marathon, will be held on Carnival night, March 2.
Register for these races, you have until February 24.
Don't miss it!
Tradition of the Benidorm carnivals
A large caricature of a sardine in its coffin parades through the streets in a mock funeral procession before being taken to the beach to be able to rest during a fantastic fireworks show.
Most cities celebrate the burial of the sardine on Ash Wednesday to symbolise the burial of the past in the hope of being reborn in a brighter future.
Rent apartment in Benidorm
Renting an apartment in Benidorm for carnival is your best option.
Enjoy one of the most important dates of the year in Benidorm. In the city of skyscrapers, we already enjoy the sun and good weather.
Apartments for rent in Benidorm
Rent an apartment in Benidorm for carnival and enjoy different carnivals.
Benidorm has a privileged time and a really special atmosphere that makes millions of people repeat their stay.
Sun, beach, good weather and carnival, could you ask for more?
Rent your apartment now and enjoy an unforgettable carnival.
Carnival 2019 in Altea Dársena
Enjoy the carnival and all its daily and evening activities with the Altea Dársena holiday apartments, where you will live an authentic experience with sea views from the room to relax after a full day of parades and floats.
Holiday apartment rentals in Benidorm, Altea Dársena. Vacation apartments on the beachfront, with beautiful sea views from your apartment.
Can you imagine a better carnival?
In addition, take advantage of the apartment's free parking so that you don't have to worry about the car for the whole stay.
Don't think about it and enjoy the 2019 carnival in Benidorm.